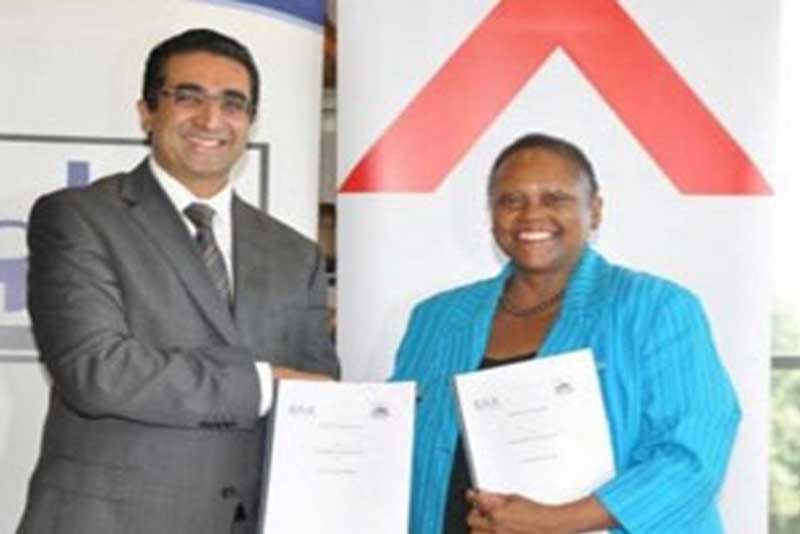 ABC Bank and East Africa Exchange sign warehouse receipting agreement
---
ABC Bank and East Africa Exchange sign warehouse receipting agreement
Nairobi: 7th March, 2015: Access to loans and grants has now been made easier to grain farmers and traders. Through an agreement of the East Africa Exchange (EAX) and ABC Bank farmers can now borrow against their projected harvest. This will also enable farmers protect their produce against storage-related damage and negotiate for better prices.
With warehouse receipt finance, a farmer or trader will deliver his produce to a warehouse that has been approved by the bank. The bank will then issue a receipt vouching for the quantity and quality of produce being stored and take the receipt as collateral against which they provide financing to the farmer or trader. Through the deal, ABC Bank will provide finance for electronic warehouse receipts to grain farmers and traders supported by EAX; provide clearing and settlement services integrated with the national payment systems and mobile banking solutions.
"ABC Bank is committed to providing customized financial solutions to small and medium enterprises, including agribusinesses," said ABC Bank Group Managing Director, Shamaz Savani, noting that agriculture is a key economic pillar that ought to be supported through financial partnerships to ensure the country attains food security to support the growing population.
Speaking at the event, East Africa Exchange Board Chair Dr. Jendayi Frazer reaffirmed the exchange's commitment to the East African market. "Our goal is to be a major stakeholder in the transformation of agriculture by formalizing the East Africa market, bringing a spot market and providing small holder farmers with greater bargaining power. We began our operations in Rwanda, now in Kenya and this relationship with ABC Bank is part of that establishment of ourselves and working in partnership with key institutions in Kenya. We are currently trading grains like maize and beans but going forward we will get into cash crops and soon minerals".
EAX is a commodity exchange that aims to increase regional market efficiency and give the growing population, particularly smallholder farmers, better access to commercial markets, and link them to agricultural and financial markets so they can get competitive pricing for crops and access to finance. Savani added: "Grain markets in Africa generally suffer from a range of constraints. Smallholder farmers are particularly affected owing to their vulnerability to price fluctuations and their weak bargaining position. With warehouse financing solutions like this, they will now be at a vantage point to bargain for better prices for their produce, thereby enhancing their capacity to produce more, create employment and contribute more to economic development".
"The key advantage of a warehouse receipt is it resolves a whole series of problems, including protecting the traders from losing their produce in their own storage before reaching the market, and is also a great way of freeing up financing for the farmer," said Constantine Kandie, Kenya Director for EAX.
---