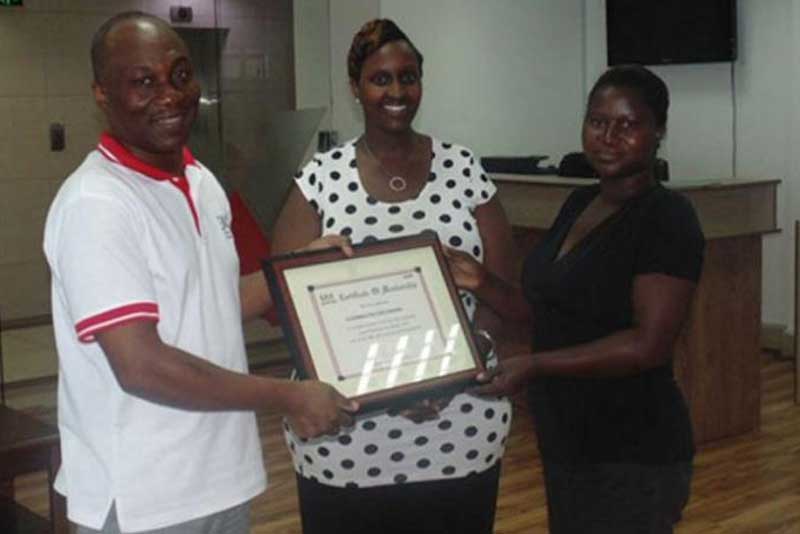 EAX GRANTS MEMBERSHIP TO 35 RWANDAN MAIZE COOPERATIVES
---
EAX GRANTS MEMBERSHIP TO 35 RWANDAN MAIZE COOPERATIVES
Kigali, Rwanda –The East Africa Exchange (EAX) has granted membership to thirty five (35) maize and beans farmer cooperatives in Rwanda in an effort to forge a long-term partnership with small holder farmers. These coops are from ten (10) districts of Rwanda which are mainly key production areas for maize and beans, the commodities currently being traded on the Exchange. The cooperatives have been presented with EAX Membership Certificates upon completing of Membership Integration Training to enable them to participate in EAX warehouse receipts financing and to trade successfully on the EAX trading platform. The coops were trained on grain standards, post-harvest loss management, warehouse receipts, warehouse receipts financing, membership rights & responsibilities, and the general rules of the EAX, which has been approved by the Capital Markets Authority.
To complement EAX's effort to support the cooperatives to use the Exchange, EAX has signed on Commodity Brokers to support the cooperatives that are not able to trade themselves. The Commodity Brokers will undertake bids on behalf of the farmers and cooperatives and support them with price information and trade settlement. In line with the promotion of spot trading, EAX has started implementation of the plan for setting up Satellite Trading Centers across the country. The Exchange has focused on setting up these centers in its warehouses in Kayonza and Nyanza in this pilot phase to link the farmers to its electronic trading platform. Settlement is expected to be done two days after trade. The centers will be equipped with computer systems, internet connection, and price data display tools to allow cooperatives to trade successfully without having to travel to Kigali where the Exchange's electronic trading platform is located.
Dr. Kadri Alfah, Country Manager for the Exchange who awarded the certificates said, "We are very glad for the confidence the farmers and cooperatives are placing on us. We intend to build on a long term relationship that will ensure that we continue to support the cooperatives to meet their immediate and changing needs. We want to build good business relationships with the farmers because we cannot be successful in our objectives without them."
As members, the cooperatives are entitled to free training, warehouse receipts and warehouse receipts financing as well as price information from EAX.
---