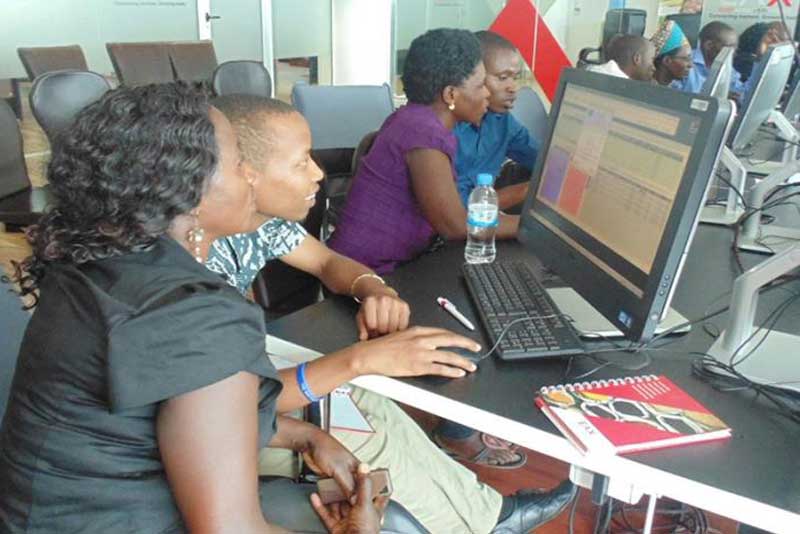 EAX Warehouse Receipts System
---
Has the eax warehouse receipts made any improvement to farmers' lives in the first year of implementation?
''agriculture is the backbone of rwanda's economy, yet only about 10% of bank lending goes to agribusiness''.
In Rwanda, agriculture accounts for nearly 37 percent of the GDP and employs close to 75 percent of the Rwandan people, mostly in small scale farming. While it is very apparent that agriculture remains a key Rwanda economic sector, only about 10% of funds from the banking sector go to agriculture.
The East Africa Exchange (EAX) in 2014 set up the first warehouse receipts system in Rwanda, providing access to finance for smallholder farmers, who use their harvested grains, stored in EAX certified warehouse as a security to obtain up to 70% of the market value of their harvest. In the first year of the launch, amid several challenges, particularly in educating farmers on the use of warehouse receipts, more than 232,500,000 Rwanda Franc was advanced to farmers through Rwanda commercial banks, benefiting directly or indirectly over 34,000 Rwanda farmers. Overall, over 1 billion Rwanda francs worth of commodities have passed through EAX warehouse receipts system in the first year of implementation alone. This clearly demonstrates that the EAX warehouse receipt system has the potential to transform agriculture in Rwanda from the usual subsistence and low-value into commercially oriented, regionally competitive sector. Farmers generally, and especially small holders are often perceived to be very risky by commercial banks, and therefore unattractive candidates for financial institutions to provide credit. They also lack the assets banks would accept as security for loans and the unpredictable, fragmented and unstructured nature of their agricultural activities do not help them. The EAX Warehouse Receipt System offers an alternative solution to farmers and traders to access finance. After harvesting, the farmer or trader can deposit a commodity in an EAX certified warehouse all over the country and then be issued with a certificate of title which is the, EAX warehouse receipt. The farmer or trader can then apply for short-term loan from any of the EAX member banks using the warehouse receipt as sole security for the loan. The farmer will pay the bank when prices are right for a sale, usually between 3-5 months.
One of EAX farmer cooperatives, cultivating Maize in the Eastern Province of Rwanda summed up the EAX warehouse receipts system, '' thanks to EAX warehouse receipts, we prepared ourselves on time for the next planting circle''.. The warehouse receipts system allows farmers who are squeezed out of commercial bank lending to obtain loans to meet personal and commercial needs, as well as easing the pressure on the farmer to sell immediately after a harvest when prices are usually very low, and mostly do not meet the farmers production cost. While the commodity is in the EAX certified warehouse, the farmer will be supplied with daily price information by the EAX on their mobile phones so that they can monitor the prices and sell when it is favorable, often resulting in increase in price. In November 2015, some farmers sold white maize grade 1 for 280 Rwanda Francs per Kilogram through EAX, compared to the price of 155 Rwanda Francs per Kilogram during the harvest time. The EAX warehouse receipts system allows commodity sales to continue over time from one harvest to another, thus stabilizing prices. Importantly, the EAX certified warehouse approach drastically reduces farmer's post-harvest losses as the storage and care of the commodity is transferred to EAX certified warehouses equipped with appropriate facilities and collateral management expertise to ensure quality and quantity is preserved.
The New Draft Warehouse Receipts Law in Rwanda
The government of Rwanda has drafted a new Warehouse Receipt Legislation that will enhance the structure of the agricultural sector and encourage more banks to be involved in commodity financing for smallholder farmers. The bill is now before Parliament for enactment. The Warehouse receipts law would provide a legal structure for a warehouse receipts system in Rwanda, this providing the necessary credibility and predictability for financial institutions to increase their loans to Rwanda farmers, a move that would further boost the Rwanda agricultural sector, food security and economic growth.
However, and for now, banks in Rwanda are expressing interest through EAX warehouse receipts to supply the Rwanda agricultural sector with the funds required through Contract Law and the Law Nº32/2009 Of 18/11/2009 Governing Negotiable Instruments, supported by the EAX stringent collateral management and risk management regimes, and market information systems. Eco bank, one of the first banks to commission EAX warehouse receipts system has committed up to 375,000,000 Rwanda Francs per farmer cooperative to warehouse receipts financing. It is expected that Rwanda farmers and traders will take advantage of this facility in 2016. Other banks in agribusiness in Rwanda including KCB, UOB, Equity, and GT bank are all committed to supporting farmers more access to this facility through EAX warehouse receipts system.
Some key Challenges
In the first year of its implementation, the EAX warehouse receipts system faced numerous challenges; key was farmer's difficulty in adopting the concept of delaying sales until later when prices were better, as well as paying for essential EAX services such as cleaning, drying and packaging to meet the East Africa Community specification for grains which EAX is adopting. Some farmer cooperatives also preferred to be paid fully for their harvest rather than going through commercial banks for 70% of the harvest value. One commercial bank has responded to the needs of the farmers by agreeing to provide 100% payment to farmers.
---